World Piano Day
Little known facts about the world's most famous pianists
As all pianists know, there are 88 keys on a standard piano and on the 88th day of the year, we get to celebrate World Piano Day. At musicGuard, we've been protecting piano players across the UK for more than 20 years with cover both in the home and out performing.
So, to celebrate World Piano Day, here are five of the most interesting pianists in musical history!
Sergei Rachmaninoff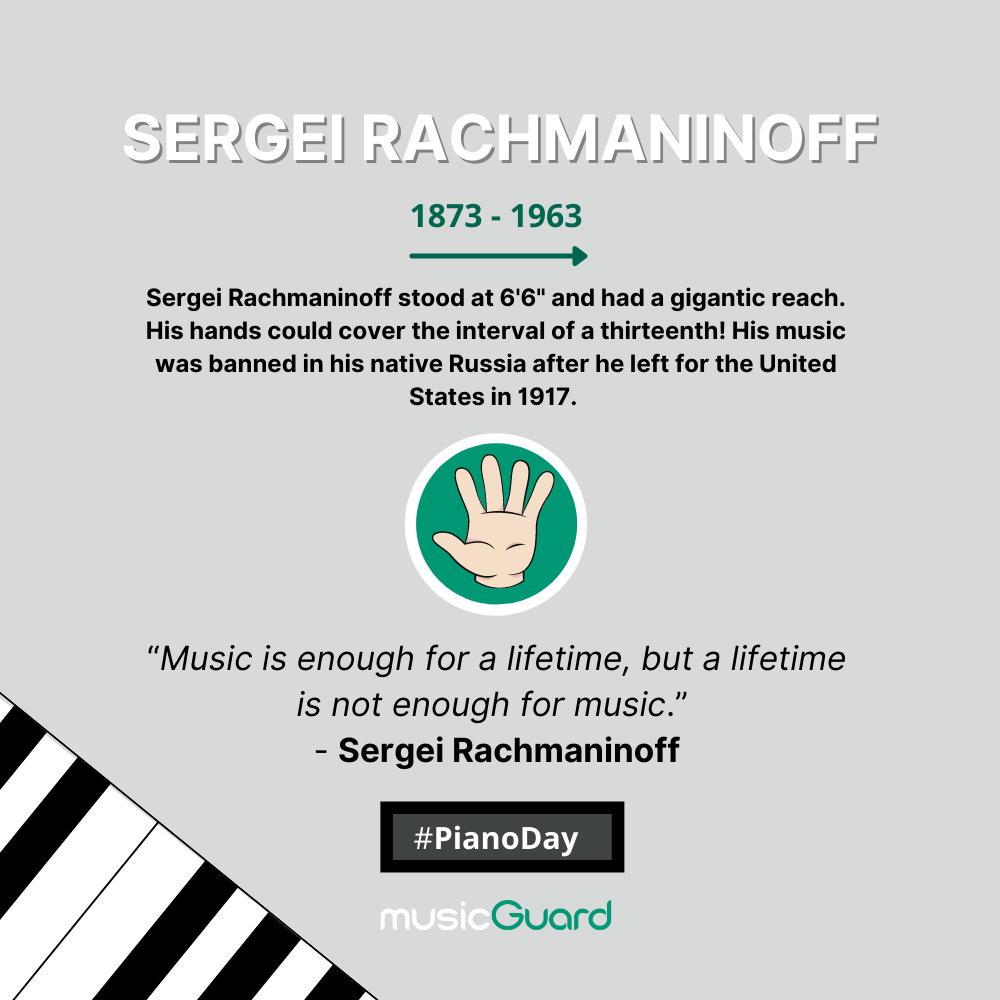 Standing at 6'6", Sergei Rachmaninoff was a giant of the music world in every sense of the word. The Russian-born pianist and composer had such large hands that he could reach the interval of a thirteenth. Rachmaninoff studied at the St. Petersburg and Moscow conservatories in his native Russia, writing his first opera Aleko as a student in 1892. Five years later, Rachmaninoff would perform his first symphony, the Symphony No.1 in D Minor, which received such heavy criticism that Rachmaninoff would be plunged into a crisis of self-doubt and would not play again for three years.
After returning and in his role as conductor at the Bolshoi Theatre, Rachmaninoff composed three of his major works, Symphony No. 2 in E Minor (1907), Piano Concerto No. 3 in D Minor and The Isle of the Dead (1909). In 1909, Rachmaninoff would tour the United States for the first time, before returning permanently to the States following the Russian Revolution in 1917. Rachmaninoff's music was banned in Russia following his departure.
Suffering from homesickness, Rachmaninoff's famed creativity would wane and he largely spent his time concertizing his earlier works until his death in 1942. Rachmaninoff was a leading virtuoso and one of the last great players along with Tchaikovsky of the Russian Romanticism genre.
Ludwig van Beethoven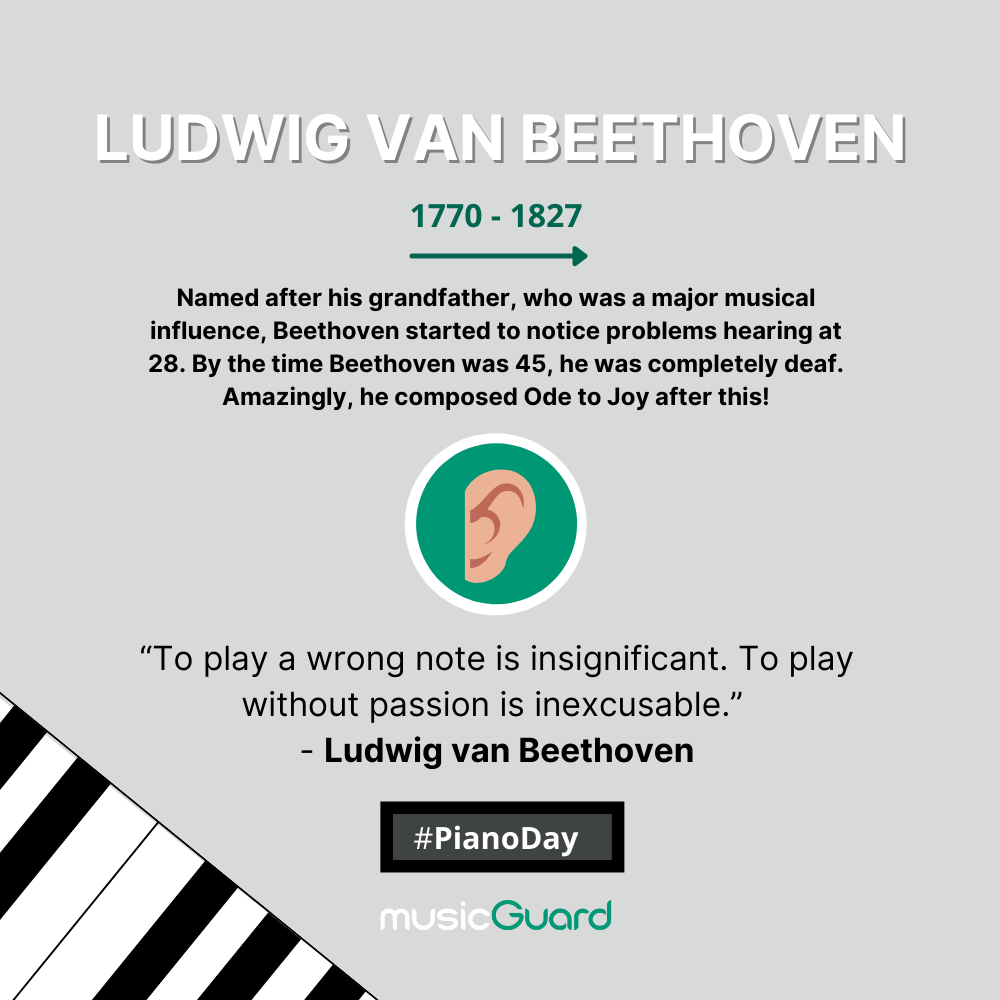 Possibly the most famous pianist and composer there has ever been, Ludwig van Beethoven was born into a musical family in 1770. Beethoven's grandfather, who was also his namesake, was Kapellmeister in his hometown of Bonn. Beethoven moved to the capital of music and culture at the time, Vienna in 1738 where he would study with another great in Joseph Haydn.
As a pianist, among his many masterpieces, Beethoven was renowned for his deafness. Beethoven first noticed problems with his hearing at the age of 28. By the time he was 45 in 1818, he was completely deaf. It's not certain what caused Beethoven's deafness, although there are a number of factors that are rumoured to have possibly caused it, including metal poisoning, syphilis or lupus. Remarkably, after turning deaf, Beethoven continued to produce a number of symphonies, including Ode to Joy: Symphony No. 9 and String Quartet No. 14 which cemented his legacy as one of the behemoths of the Classical and Romantic periods.
Stevie Wonder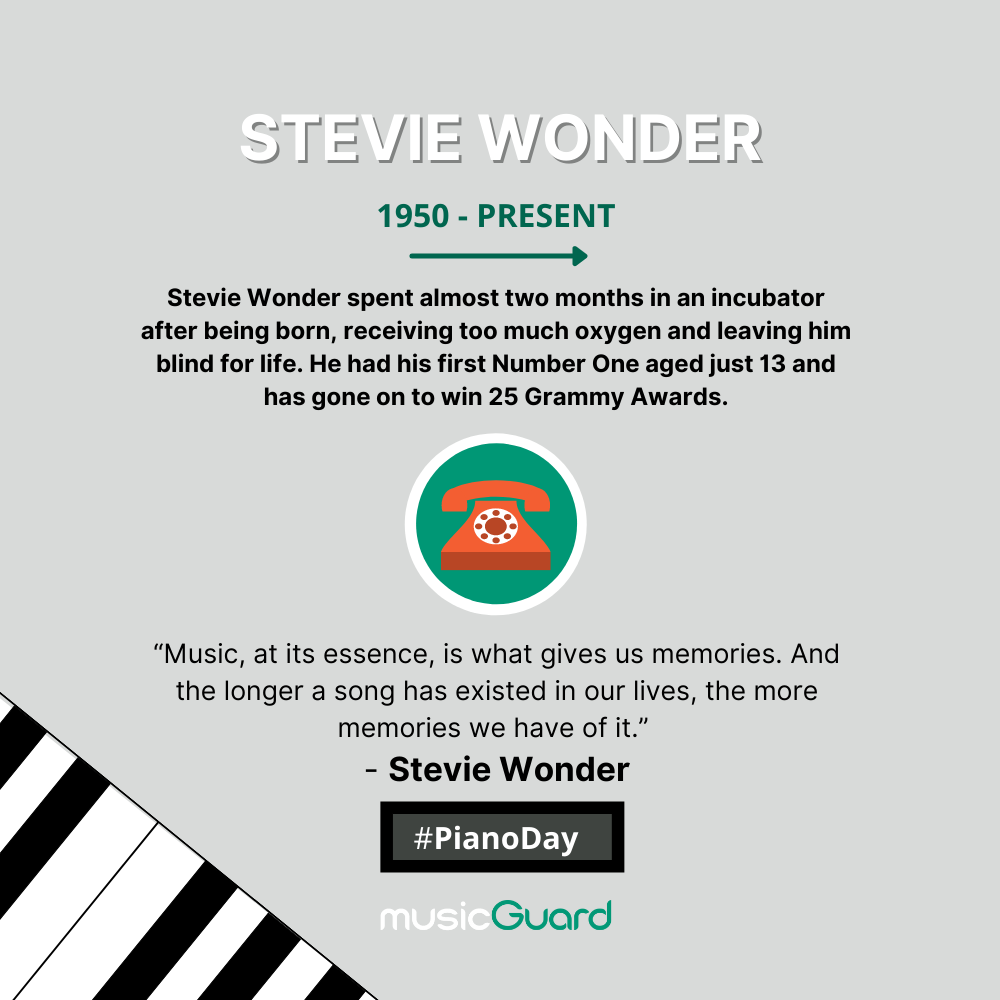 There are a number of blind pianists who have blazed a trail for others to follow, from Ray Charles to Andrea Bocelli and Nobuyuki Tsujii, but perhaps the most successful and well known is Stevie Wonder. Born in 1950 as Stevland Judkins, Wonder was blind from birth, after receiving too much oxygen in an incubator worsened an eye disorder called retinopathy of prematurity.
A child prodigy, his performances on the piano, organ, harmonica and drums in his hometown of Detroit led to him being signed to Motown Records at the tender age of 12. There, he was given the name 'Little Stevie Wonder' by the President of Motown, Berry Gordon Jr. and went on to reach number-one with the hit Fingertips at just 13 years old.
Wonder soon outgrew his 'Little' moniker and the hits kept coming. In total, Stevie Wonder has 10 US Number Ones albums to his name and a string of classic songs, including I Just Called to Say I Love You, Sir Duke and Superstition. Wonder remains one of the most successful recording artists of all time, winning 25 Grammy Awards as well as the Lifetime Achievement Award in 1996 and the Presidential Medal of Freedom from Barack Obama in 2014.
Franz Liszt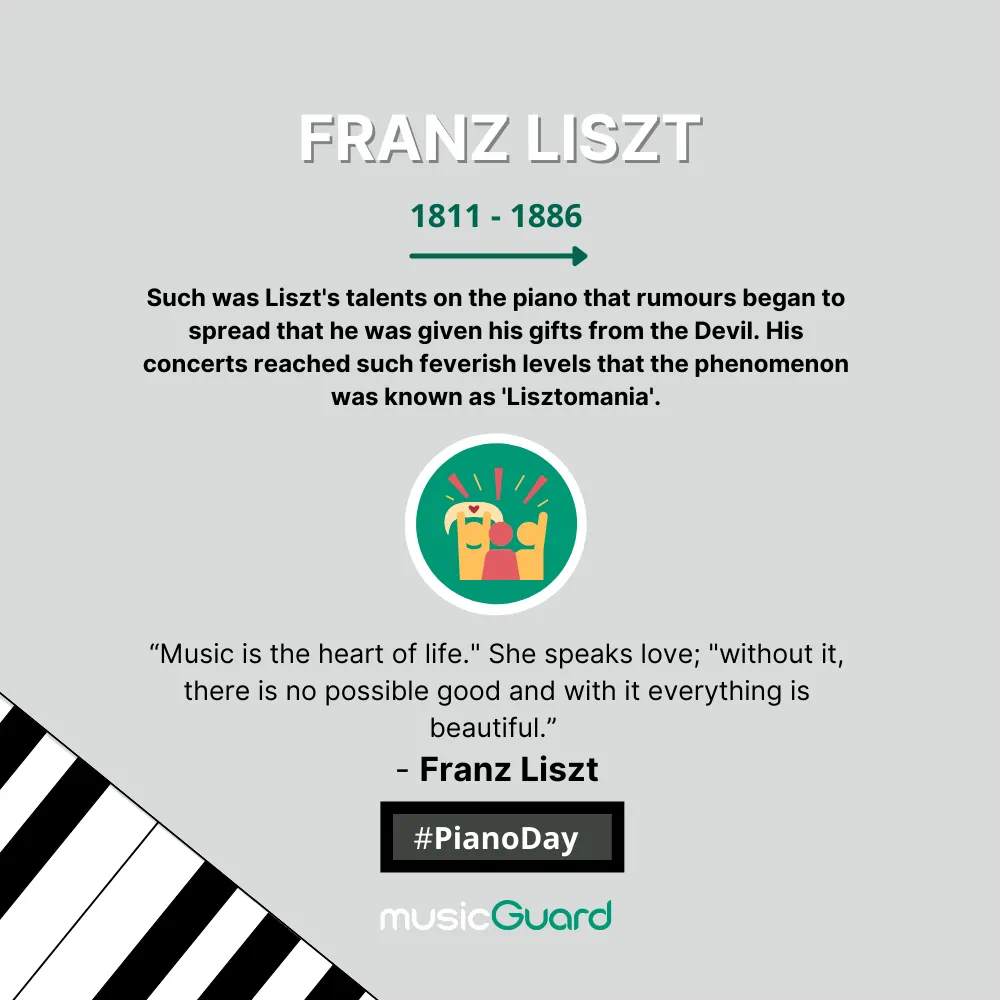 Hungarian Franz Liszt was one of the great pianists and composers during the Romantic period, whose proficiency on the piano led to rumours that he was given his talents by the Devil. Liszt's father, Adam, was a talented amateur musician and began to teach his son the piano at a young age. By the time Liszt was 9, he was performing in concerts. At the age of 12, Liszt travelled to France to seek admittance to the Paris Conservatory, which he was denied on the grounds of being a foreign national. Undeterred, Liszt would take Europe by storm in his early twenties with a string of dazzling virtuoso displays. Much like The Beatles over a century later, such was the fevered reaction to his performances from those in the audience, that the phenomenon was described as 'Lisztomania'.
From these sell-out concerts, Liszt would often give away much of the proceeds to charitable causes, such as the thousands of homeless after the Great Fire of Hamburg in 1842. Liszt's daughter, Cosima, would go on to marry another legendary pianist in Richard Wagner. Following tragedy in his personal life and a failed marriage to Polish Princess Carolyne zu Sayn-Wittgenstein, Liszt moved to Rome and gave himself to the Catholic church. From there, he continued to compose new works and established the Royal National Academy of Music in Budapest before passing away in Germany in 1886.
Glenn Gould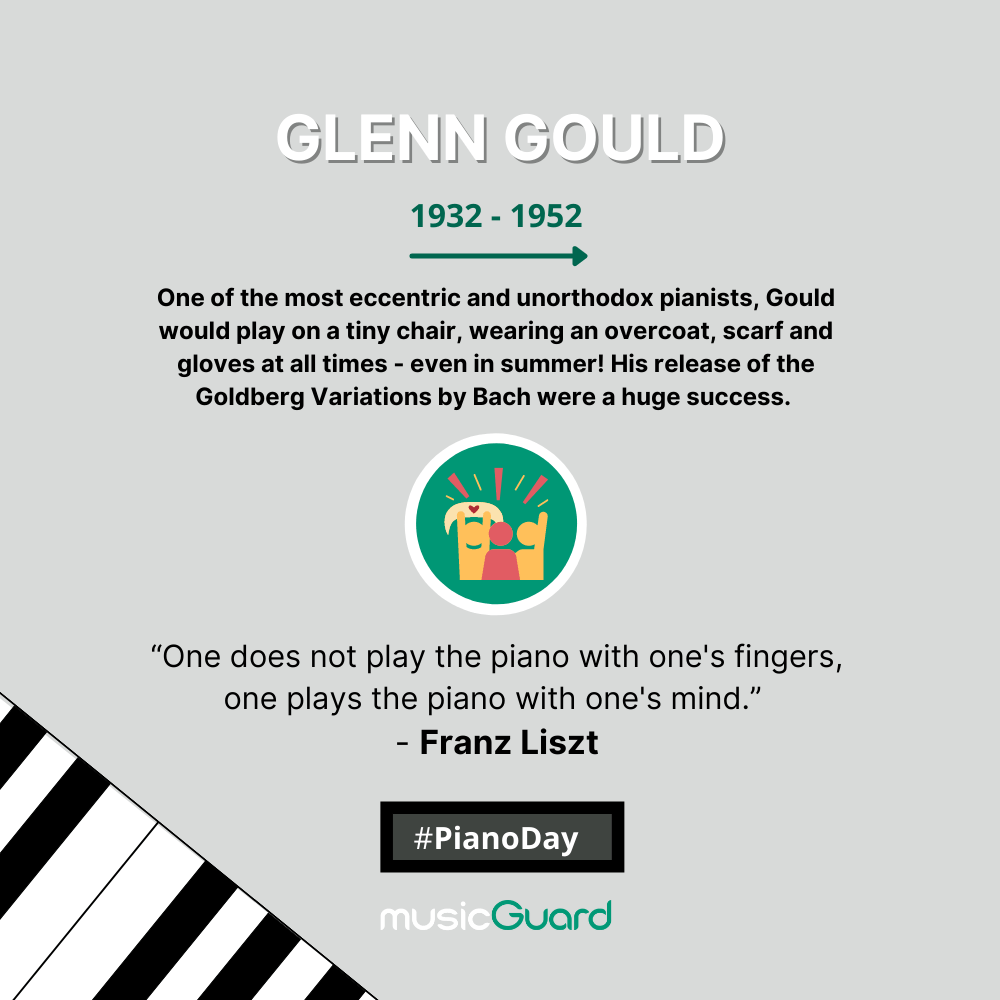 Glenn Gould was one of the more eccentric pianists, who nonetheless won over classical music fans with his unorthodox performances. Entering the Royal Conservatory of Toronto at age 10 in his native Canada, Gould's debut performances in New York and Washington D.C. were a huge success and earned him a recording contract where he released the Goldberg Variations by J.S. Bach.
Gould's unusual hunched stance, humming while playing and tiny chair that he used for all of his concerts marks his legacy as one of the more individual pianists of the 21st century. Even the clothes Gould wore would draw attention – wearing an overcoat, scarf and gloves even in the summer months. After leaving the concert arena, Gould seemed to live a reclusive life, talking often on the phone to close friends but forgoing physical contact up until his death in 1982.