How to keep busy as a guitarist at home
Hints and tips for you and your guitar to help keep you sane!
It can be tough being at home, trying to find new things to do and pass the time. Sometimes though, it's best just to look for the positives in the situation we all find ourselves in. More time indoors means we might get more time to get around to doing those things we meant to do, but never got around to.
As a guitarist, there's probably a few things that you've been desperate to try but haven't yet given it a shot. Well now's your time! We've put together our own self-isolation rescue play complete with seven handy tips purely to keep you motivated over the coming weeks and months. So, what are you waiting for?!
1) Play a new style
All this spare time could be perfect for broadening our horizons. One way to do so could be to try playing something that you wouldn't normally play.
It can be easy sometimes to stick to the same-old, same-old way of playing. After all, it's what you do best. But often the darkest times are where innovation truly comes to the surface, so why not get experimental?
Some of the most memorable covers in music have been cross-genre – Johnny Cash practically owns the trademark – so there's no reason not to give it a go. Either go back and play a style that you haven't done in a while or pick a favourite guilty pleasure of yours from a completely new genre!
2) Clean your guitar
When was the last time you cleaned your guitar exactly? It's probably top of the list of things we ought to do, but haven't got around to doing.
Sure, it's a boring chore, but it's important to keep your guitar properly maintained and as we're cleaning everything else around the house, we might as well keep our instruments in tip-top condition.
How do you clean a guitar?
To properly clean your guitar, you'll need to remove the strings to make sure you can polish the fretboard and the guitar body easily. Then, all you'll need to do is:
Wash your hands: Do this before you start. We

'

re all doing it anyway and this will help avoid getting your guitar even dirtier than it was to begin with!
Remove your guitar strings: Taking the strings off your guitar will make it much easier to clean the guitar body and fretboard. Be careful though!
Clean the fretboard: You can use a damp cloth the clean your guitar

'

s fretboard or fingerboard. To remove more stubborn stains, you can use wire wool. Super fine steel wool (grade 0000) is ideal for this if you can find some in your local hardware store.
Polish off the body: Regular polish and a duster should do the trick, but for best results you could use

guitar polish

and wipe it down with a soft cloth.
Why do guitars get dirty?
Sweat and general dirt from your fingers can lead to your guitars getting quite dirty. White guitars can quickly lose their aesthetic if they're grimy, so it's best to keep it clean (or stick to dark-coloured guitars!)
If you're a guitar collector and like to keep your prized possessions on display on your wall, then this can also lead to them collecting dust. Your safest bet from having to avoid cleaning them up would be to keep your guitars in a case whenever you're not playing.
3) Learn scales
If you haven't already mastered scales, then now is your time! Of course, you don't have to know them off by heart and you can happily play along without having learnt scales, but it's definitely a handy skill to acquire.
Scales are the foundations to melodies, chords and solos. Start by learning the major scales, then chord structure. Jazz and Blues music are pretty good starting points to learn scales, so if you can find a lead sheet or a chord chart then this should help.
Of course, if you find it easier, there are plenty of helpful YouTube tutorials out there to help you get to grips with scales if you haven't already.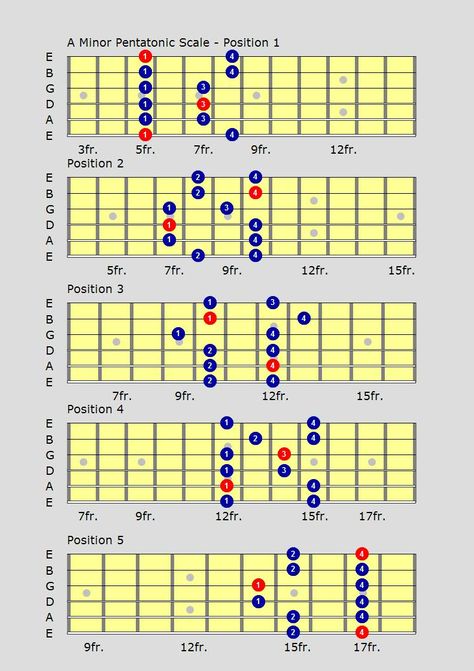 4) Build your guitar pedalboard
With plenty of time on your hands, why not perfect your pedalboard?
Whichever size pedalboard you own, it's worth spending a bit of time arranging your effects pedals to your individual preference. Before you start strapping your pedals down to your board, have a think about the most efficient way to lay them out.
Keep your most-used effect pedals closest to you, with the least-used furthest away. You should be able to squeeze in about three rows of pedals on a standard-sized pedalboard. Remember, there is no right or wrong way to arrange a pedalboard, only the way that makes sense to you.
5) Write about your experiences
Living in such uncertain times can give us a unique perspective on life – but one that many of us will be able to relate to.
You might be able to find some time to put your experiences down in words. We all know that song-writing can be cathartic and you might find that you're able to release some tensions or even help those who get to hear the end-product.
6) Join in with your friends
If you usually jam with your friends or your band, then it's going to be hard to get everybody together. That doesn't mean that it's impossible though!
Being with a group can often be a great way to find inspiration, so if you've got a bad case of 'writer's block', then this could be a perfect remedy. Re-create your usual sessions with video-calling software such as FaceTime, Skype or Zoom. You can even use JamKazam, which is a specialist software that allows musicians to collaborate online in real-time.
7) Film your sessions
If you miss performing to a crowd, then it can be hard to re-create that buzz. There's still plenty of ways that you can generate some interest though. Film yourself practicing, performing or even walking beginners through playing the guitar. Plenty of people at home may be picking up a guitar for the very first time and social media can be a great educational tool, as well as a way to get yourself recognised.
If you really, really miss performing, then why not livestream a gig from your own home? Loads of us miss heading out of the house for some evening entertainment, so why not bring it to people's front rooms?!
TAGS
Music
Band
DJ
Professional